The Suicide Prevention Coalition, Chenango Health Network, & Partners would like to welcome everyone to participate in the 3rd Annual Chenango's Recovery & Wellness Glow 5K Walk/Run. This run is an opportunity for our community and surrounding communities to come together for a common cause; to reduce the stigma regarding suicide, mental illness, and substance use. We hope to do this while highlighting that recovery is possible.

This event has options for both virtual and/or in-person participation. We are encouraging those who want to participate virtually to share your pictures on the Healthy Chenango Facebook page and also email them to the event if you'd like them added to our website.
We are also asking that virtual participants share their total miles so we can include this information on our website once the event has concluded. T-shirts will have the above color logo on the front of the shirt. In order to have your t-shirt available for pick up at the 9/17/22 race, please register by 8/08/22.
T-shirts can be ordered after this date, but will not be available by 9/17/22 and will be mailed to you at an additional cost. If you are interested in tabling at this event for your agency, please email me your contact information.
We will have tabling opportunities from 6 PM – 7:30 PM.
This year's Recovery and Wellness 5K Glow Run/Walk will be raising money to support the ongoing training needs of the community. We will continue to collaborate with American Foundation for Suicide Prevention, the Suicide Prevention Center of New York, and the Binghamton and New York State Veterans programs to ensure we are able to offer the most comprehensive services to the community focused on suicide prevention and awareness.
There will be trophies awarded for the following categories: kids 12 & under, youth 13-18, and adult male and female. There will be trophies for the best glow gear so get creative and show us your glow! Glow in the dark face painting will be available at the event.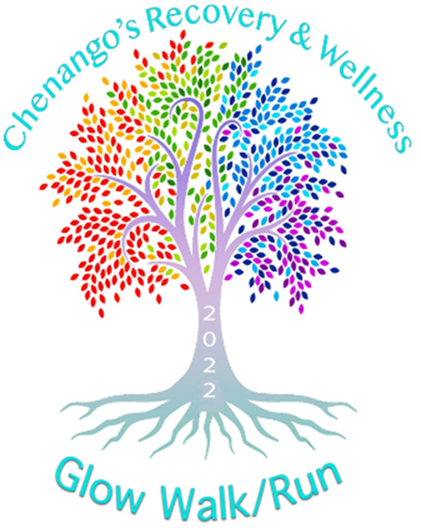 $8 for a ½ BBQ chicken (no sides)
Date: September 17th, 2022
Time: Chicken BBQ – pick up starting at 4 PM
*pre-sale link: https://buy.stripe.com/cN23eWf1g7N59pucMM or cash at the event on 9/17/22
Tabling Event with local agencies – starting at 4 PM
Registration – 6 PM
Kid's Race – 7 PM
5K Run/Walk – 7:30 PM
Cost: Adults Race– $30 & Children's Race — $20
Venue: Weiler Park – 43 Borden Ave Norwich, NY 13815
Email: chenangohealthandwellness@gmail.com
Registration: Chenango's Recovery & Wellness Glow Run